Dragon, Snake Skull Carving Pendant!!! Yes, this is really special and unique carving pendant that is made by only special master carvers. This carving is made from deer shed antler (local antler). It is taken from the almost top part of the antler material.
Image of Dragon Snake Skull Carving Pendant
Please find the images as follows: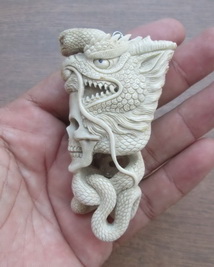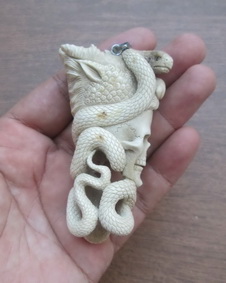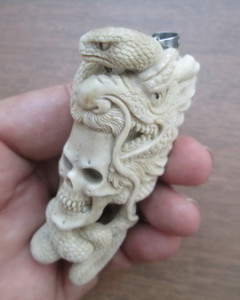 If you see the image above, the dragon as if eating the skull. Everything is carved in detail, especially the skin of the snake. The size of this pendant is around 7-8 cm height and it combines with a sterling silver bale on top. The color of the carving is natural.
Dragon Snake Skull Carving Pendant is suitable for people who really appreciate the art or collector. This carving is made in Bali, Indonesia (island of God). This is just reference cause this carving already sold. If you like to have such kind of the carving, we should check the availability of the material firs. Again we can not make it totally the same as picture cause depend on the material that we get.