After we showed you our carving for skull necklace, this time we will show you carved skull bracelet that made from buffalo bone and horn.
Carved Skull Bracelet
This carved skull bracelet consist of 13 pieces skull with size approximately 15 mm and they are separated by bead and connected with black string. In the end of the string, you find find 2 smaller skull with bead, too. This bracelet is adjustable, so it is going to be suitable with your wrist. For your reference, please find the picture below.
Carved Skull Bracelet from Buffalo Bone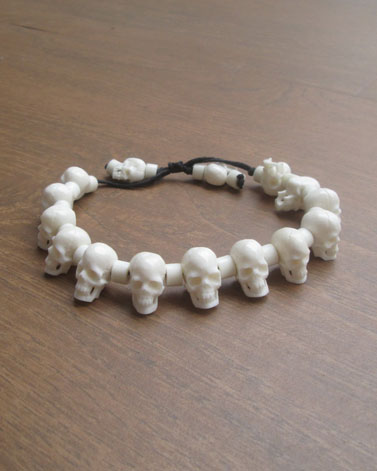 Carved Skull Bracelet from Buffalo Horn
If you like to order this kind of carved skull bracelet, the minimum order is 5 PCs per material. Please make sure that the size is approximately. We can not guarantee that the color and size is the same as the picture. All of these carved skull bracelet are made in Bali, Indonesia.